This is my interpretation of Olive Garden's Chicken Vino Bianco that my wife loves, but isn't on their menu any more.  I've made some adjustments to make it a little more MadMadViking style.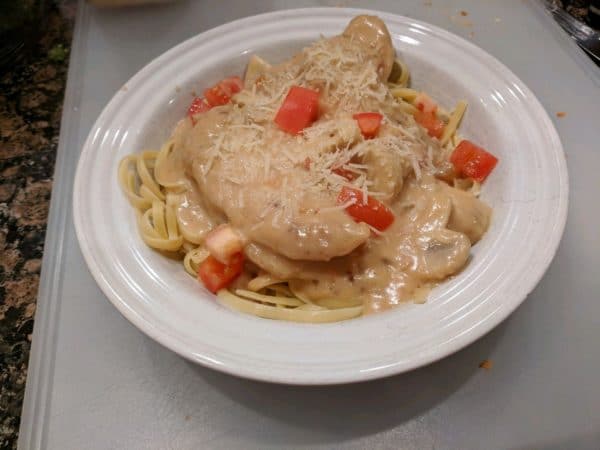 | | |
| --- | --- |
| | |
Put a pot of water on to boil and add a handful of sea salt. I hold it right below boiling until close to the end when I turn it up, bring it to boiling and add the linguine noodles.

Cook the noodles 8-10 minutes or until they are like you prefer them.

Reserve one cup of the water and drain when done.
Flatten out your chicken and cut into serving size pieces. Having them in uniform thickness is key to having all your chicken cooked the same.

In a pie plate or other similar dish mix the flour, pepper, salt, and garlic powder. Coat each piece of chicken in the mixture and set to dry on a rack for 15 minutes. This gives the flour time to stick to the chicken.

In a pan heat up the oil and brown the chicken about 3 minutes a side depending on the thickness of your chicken. Set aside as they are finished to add to the sauce later.
In the pan you cooked the chicken in, add the butter, garlic, and onion. Cook over medium high heat until the onions are translucent, about 2 minutes.

Add 1/4 cup of flour and whisk to combine.

Add cream, lemon juice, wine, red pepper flakes, salt, pepper, and Parmesan cheese. Whisk until smooth. Add up to 1 cup of the reserved pasta water to make the sauce.

Add cooked pasta, half of the tomatoes, stir to combine. Return the chicken to the pan to reheat. Plate and sprinkle with the remaining tomatoes. I like a little extra Parmesan too.