When it comes to easy, hearty meals, my go-to recipe is chili. On top of that, cooking chili in a slow cooker, crock-pot or instapot makes it a no brainer. Just check on it every once a while, give it a stir and you are good.
The great part about this recipe for me is that since I'm cooking for just me right now, this is a versatile recipe that can be eaten all week or frozen for another time. One of the hardest thing about cooking for one is that it takes time and you want to maximize your efforts. Making a big batch of chili isn't hard and you can make enough for several meals in one shot.
Stop Eating Canned Chili
When making chili is this easy, why would you eat canned chili? OK, sure it is easy to grab a can off the shelf and reheat it, what is wrong with that? Well, for one, most of the chili you can find in the store contains TVP or textured vegetable protein. This is a fancy way to say that instead of meat, it has mechanically and chemically altered soybeans. Let us just say that TVP isn't likely to be good for you. It is cheap though so chili manufacturers LOVE it.
You are a big kid, take a look at the info on it and decide if you want to trust the lowest cost product that manufacturers can find to replace the meat in your chili.
---
---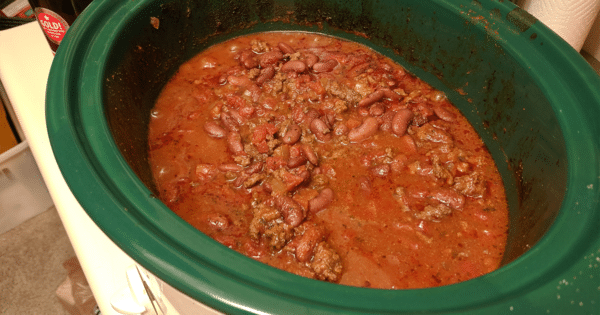 | | |
| --- | --- |
| | |
If using dry beans, rinse and soak them the night before. Add them to the slow cooker.

Brown the hamburger. When it is about halfway done, add the diced onions and cook along with the hamburger.

While the burger is cooking, add the tomatoes, chili powder, cumin, sugar, salt, garlic powder and wine to the beans.

Add the cooked burger and onions to the beans

Cook on high for ~3 hours, adding liquid as needed and stirring occasionally.
Using Canned Beans
If you aren't up for soaking beans overnight or even doing a quick soak on your beans, you can use canned. You will want to substitute 3 cans of Kidney beans for the dry. You will be able to shorten up the cooking time or you can instead turn your cooker down to low.