This easy low carb chicken casserole is a great way to feed the family something healthy. It is also a great way to make use of leftover rotisserie chicken.
Check the very bottom for a tool tip for making shredding meat super easy!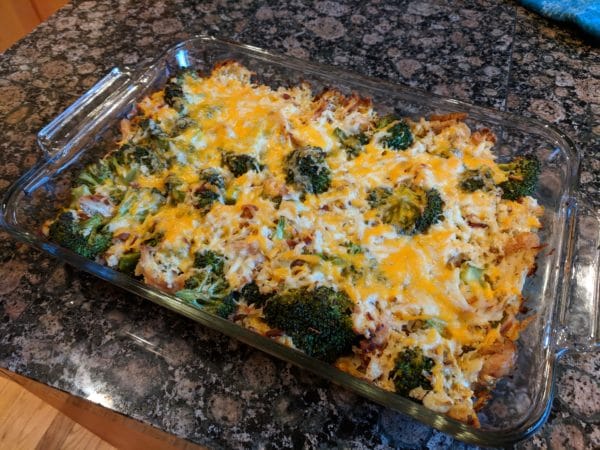 | | |
| --- | --- |
| | |
Preheat the oven to 350 degrees

Steam the cauliflower and broccoli until cooked through and tender.

While the cauliflower and broccoli is steaming, fry the bacon until crispy and chop/crumble into small pieces.

In a large bowl, combine all of the ingredients reserving 1/2 cups of cheese.

Spread the mixture into a 9x13 baking dish and top with reserved cheese.

Bake 30 minutes uncovered and serve immediately
Riced Cauliflower is very easy to make. Simply run it through your food processor or use a cheese grater to break it up.  What I do with this recipe is start the bacon frying, then start ricing the cauliflower. Then I put the cauliflower in a microwave safe bowl, cover and microwave for 5 minutes.  No water is needed. While that is cooking I break up the broccoli and get it ready to steam. When the cauliflower comes out I microwave the broccoli for 5 minutes.
When it comes to shredding chicken or any other meat, I HIGHLY suggest getting a pair of Bear Paws.  They are hands down the best tools I've used for shredding meat.