My Trayvax Contour review would not be complete without addressing the fact that most men are carrying their grandfather's wallet. Now I'm not talking their grandfather's literal wallet, but a wallet that hasn't substantially changed in hundreds of years. Modern life requires a modern wallet and the Trayvax line of front wallets is leading the charge in changing how men carry cards and cash.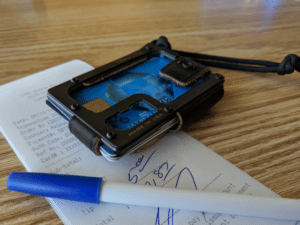 This review of the Trayvax Contour came up because I was SICK of my old wallet. If it fell out of my cargo shorts everything would go flying.  Now if I carried it in my back pocket it probably wouldn't have fallen out as often, but as it was bulky, I usually carried it in the side pockets of my cargo shorts. The old wallet was tired, the pockets were stretched and it was done.
I had been aware of Trayvax wallets for a while and liked the idea that they are American made, and in fact just an hour's drive north of me. Being the expensive whore that I am (not a self declared title, that is the fault of Jacquie the Amazon real estate agent) I of course gravitated to the Trayvax Contour, their biggest baddest wallet.
The Trayvax Contour is their top of the line model and it is easier to let them explain it to you.
The Trayvax® Contour is our most refined leather wallet to date. We begin with a highly-precise CNC-machined stainless-steel plate treated with a PVD coating for increased durability. Each plate is wrapped in top-grain oil-tanned leather, which will develop a patina as a constant reminder of your journey. Ideal for use as a front-pocket wallet , the sleek design and slim profile ensures a compact and lightweight everyday carry.
Setting up the Trayvax Contour
Right out of the box, the first thing you need to do is decide how many cards you are going to carry and adjust the stud that the leather flap locks onto. For me this meant going through and archiving all the cards that I never used. They are nice enough to include the specific wrench for doing that. Now if you carry a lot of cards you can also adjust the leather on the sides to open it up to hold more. Realistically why you need more than ~8 is beyond me.
If you let it all the way out, you can get up to 13 cards and 10 bills in the Contour, but again, I don't see any point in carrying that many. This being done, you are good to go.
Trayvax Contour Review
In all honesty, after all my research, I was pretty well sold on Trayvax wallets before I picked one out. In comparing the various models they make I went with the Contour because it was a good balance of minimalism but with ability to carry some cash, which I like to do for emergencies or paying bikini baristas (hint, they like cash).  That all being said, I ordered one and have put it to use for a couple months to really get a feel for it before writing this.
I've seen other reviews weigh them and call the contour heavy, but I haven't noticed any problem with that and if I had kept my old wallet, I'd guess it weighed in about the same. Other comments are that they can be uncomfortable to sit on. Duh, of course they would be, they are a front wallet.
Speaking of front wallets, my biggest concern would be that a front wallet would be awkward. This is something I've not experienced any issues with. Stashed in a front pocket it rides nicely. Personally I hated the old wallets in the back pocket because they sucked to sit on. There is even evidence that sitting on a fat wallet is bad for your back.
My other concern was the flap and knob that holds everything together. This arrangement seems like it would be prone to popping loose. So far I haven't had that happen once.  It seems conceivable that if you had too few cards or cash in it that it could be loose enough to come loose. If you have it adjusted right though, I don't see that happening.
In comparing front or minimalist wallets, one of the design features that sealed the deal for me is that the Trayvax Contour is compatible with credit card tools like the Pocket Monkey Multitool that I have carried for years.  All the other companies looked like its shape would be an issue for it. The Contour holds it perfectly.
One of the "features" of the Contour is the beer bottle opener. Of course I've had to put it to good use and it worked sufficiently.
One selling point I can't see myself ever using is the 65-year heirloom warranty. I'm not sure what you would have to do to the Trayvax Contour to wear it out, but I can't see it failing in my lifetime.
Why you need a $140 front wallet
OK, I'll be honest, you probably don't need a $140 front wallet. What I can say though it that if you are the sort of person that likes only buying something once, then buy a Trayvax. I do suggest looking at their models and seeing which one fits your lifestyle. The Contour is currently their most expensive and totally bad-ass. You can spend less and get some amazing wallets from them as well though.
If instead you are one of those people that shops for shoes at Pay-Less and buys a new pair every month because the last ones fell apart, then skip the whole idea and pick up that rad velcro wallet in a camo pattern down at the local 7-11. Or you could reevaluate your life and start buying quality instead of quantity. I shudder as I write this, to think what your girlfriends look like.
I'll wrap this Trayvax Contour review by saying that your next wallet should be a Trayvax. I can't guarantee that it will completely change your life, but your hip will be happy to not be sitting on grandpa's wallet stuffed full of crap any more.