My Old Camera Bag Sucked
The camera bag that I had been kicking around for the last decade likely came with my last camera and while it functioned, it sucked.  It fit my camera body and two lenses OK, but it was not easy to get anything in and out of and was designed for film cameras. It even still had loops for film canisters (you may gasp in horror).  So it was time for a new camera bag.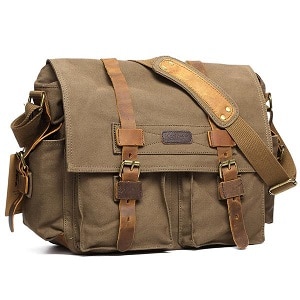 After much debating I settled on the Kattee Leather Canvas Camera Bag which I found on Amazon. OK, so I may have a slight problem with shopping on Amazon. Not a full blown addiction, but the stack of boxes from them in my recycle bin each week indicates I am on there too much.  But back to the review.
My goal was to find a bag that would last another 10 years, look nice, hold my camera and the two lenses that I use the most, plus the microphone and batteries.  I didn't want something huge, and wanted easy access. Seems simple enough.
After sifting through all the camera bags on Amazon, price comparing to other sites and doing my research, I picked the Kattee Leather Canvas Camera Bag.  Primary reason for this is that it had a 4.5 rating with over 800 reviews, was top opening and was messenger bag style so it wasn't bulky.
Kattee Leather Canvas Camera Bag Review
What I like about this bag is that it seems well built, so I won't be having to replace it anytime soon.  The clasps on the flap seem fairly secure and unlikely to spill my camera gear out if the bag falls over. I might not trust it if I turned it upside down, but who does that?
The liner in the main section of the bag has adjustable dividers and is there is room for a slim laptop and a camera and a few accessories.
Overall the bag does exactly what I was wanting it to do.
I think my only complaint about the Kattee Canvas Camera Bag is that the front two pockets aren't quite big enough. I can get my directional microphone in, but it is tight enough that it always pulls the foam wind cover off. Not a huge deal I know but it is annoying.
Who Should Buy This Camera Bag
If you are looking for a comfortable to carry camera bag for short trips, such as out shooting urban scenes and aren't taking a ton of accessories, this is a perfect bag.  There is room for the essentials, plus your laptop.  Around here it is mainly used by Jacquie for going out and shooting photos of the Seattle area Real Estate that she is selling.  For that sort of application it is perfect. If I was going out on a longer trip that required more lenses or accessories, especially a tripod, I'd go for a bigger bag.