A Look Back At My First Web Project
Back in 1999 I started the Chocolate Chip Cookie Recipe Page. Started on Skyport.com, which back in the day was a free web hosting service, it actually got a good bit of traffic.  In hindsight, I really should have kept it going but such is life. But I breath new life into it here on MadMadViking.com as a bit of nostalgia and for you all to enjoy.
---
We have a new recipe on line this week and a new page for the tips that are slowly being added to the list is on its way real soon. Be sure to check out AJ's Everything but the Kitchen Sink recipe!
On top of this we have added a few more awards to our trophy shelf (they are way down at the bottom of this page.)
Mail us your favorite recipe!
Drop us a note with your favorite Chocolate Chip Recipe and we will honor it with its own page and name it after you!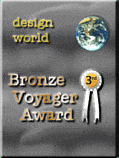 Answers to the Questions Above.
| | |
| --- | --- |
| Why Use Lard? | Because it produces a better product. In addition I feel it is better for you than Hydrogenated Shortening. |
| | |
| Unbleached Flour? | This is not the same as whole wheat flour. In my experience unbleached flour works just as good as bleached, without using any harsh chemicals that may or may not linger on in your flour. 🙁 |
| | |
| Milk Chocolate Chips? | A personal favorite, these make a better cookie (to me at least) and furthermore taste better when you have to find something to do with the remnants of a bag. |
| | |
| Tips? | Several tips, use teaspoons (or tablespoons) to keep your cookies consistent in size. Squash them out a little so as to minimize the mound effect that can get going. |
| | |
| | |
| | |