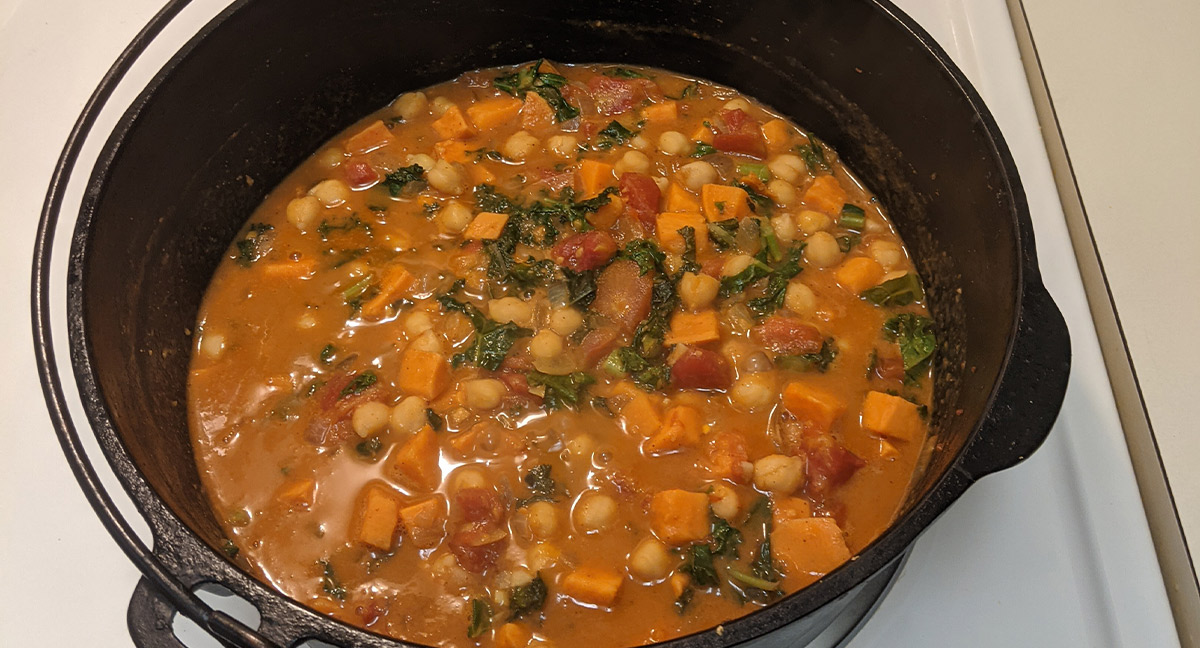 I originally dug this recipe out of the web for one of my trips out around Mount Rainier. The woman I adventure with most always gives me grief that I don't bring enough vegetables, so I make a vegetarian dish for one night's main course.
Now I wouldn't try this recipe if I was backpacking in somewhere, but for camping out of Leif the Adventure Van, it was fabulous.
Making This Recipe For Camping
If you plan on making this for a camping trip, my suggestion is to chop everything up at home and sautee the onions and garlic ahead of time. Then you can combine everything but the tomatoes, chickpeas, and kale in one container.
For chicken broth, I use Knorr Liquid Chicken Stock. I love it because it has good flavor, and is shelf-stable. That means in this recipe, you just need to add a squirt of it to your vegetables, and then when you are ready to cook, you can just add a tomato can of water and you are good to go.
The recipe calls for two cups of stock, but if I'm camping, I don't measure it out. I just use the tomato can to measure out the water and call it good.
Just don't forget a can opener if your cans aren't pop tops!
Tips For This Recipe
One big thing is to not overcook this recipe. If you let it go too long, the sweet potatoes will turn to mush and it will still taste fine, but be less fun to eat. No one likes mushy sweet potatoes.
I typically use powdered peanut butter in this recipe without any modifications, so feel free to give that a shot if you have some laying around.
If you like your dishes to have some zip, feel free to add a shot of pepper sauce to this recipe to give it some pop.
Chickpea, Peanut Butter, Sweet Potato, and Kale Recipe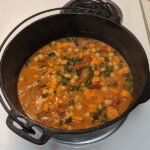 African Sweet Potato And Peanut Stew
Easy recpie that works great at home or as a camping recipe.
Ingredients
1

tablespoon

oil

1

small onion

diced (to yield 1 1/2 cups )

2

cloves

garlic

minced (about 1 tablespoon)

1

medium sweet potato

chopped into 1/4 inch cubes (to yield 2 cups)

2

cups

broth

14

oz

can diced tomatoes

1/2

cup

peanut butter

2

teaspoons

New Mexico chili powder

1

teaspoon

salt

14

oz

can chickpeas

drained

3

cups

tuscan kale

destemmed and chopped
Instructions
Heat the oil in a dutch oven over medium heat. Add the onion and saute about 5 minutes, until translucent and just starting to brown in spots. Add the garlic and saute until fragrant, about 1 minute.

1 tablespoon oil

,

1 small onion

,

2 cloves garlic

Add the sweet potato, broth, tomatoes & their juices, peanut butter, chili powder, and salt. Stir well to ensure the peanut butter is thoroughly mixed in and there's no clumps remaining. Simmer, uncovered, for about 15-20 minutes, or until the sweet potatoes are tender.

2 cloves garlic

,

1 medium sweet potato

,

2 cups broth

,

14 oz can diced tomatoes

,

1/2 cup peanut butter

,

2 teaspoons New Mexico chili powder

,

1 teaspoon salt

Once the sweet potatoes are tender, add the chickpeas and the kale to the dutch oven. Stir to combine and heat until the chickpeas have warmed through and the kale has wilted.

14 oz can chickpeas

,

3 cups tuscan kale
Notes
I use powdered peanut butter in this recipe and it tastes amazing. If you like a little more heat, you can add a few dashes of pepper sauce to this recipe to give it some zip.
The post Peanut Butter, Sweet Potato, and Chickpea Recipe appeared first on The Dude Cooks.